Accounting Firm and CPA in Orlando
KDK Accountancy Corporation is an accounting firm that has its roots in Orlando since 1960.  We are dedicated to providing the best of service for our clients in Central Florida.  KDK Accountancy has a wealth of experience dealing with a variety of businesses including construction, real estate, retail, broadcasting, legal and medical professions as well as investors and entrepreneurs. Our goal at KDK Accountancy is to understand the needs of every client. These needs include addressing industry specific challenges, compliance needs as well as efficiently addressing the areas of tax planning and tax preparation.
BERNARD KIESEL, CPA, CFP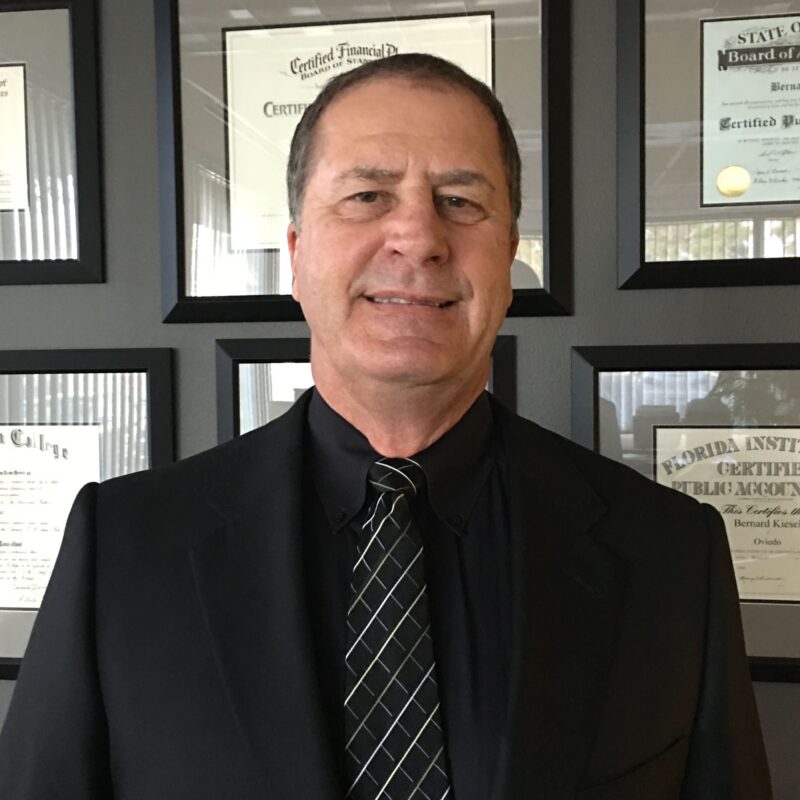 Bernard Kiesel, the managing partner of KDK Accountancy an Orlando Accounting Firm is a Certified Public Accountant who has served clients for over 25 years in the areas of Accounting, Tax Preparation and Tax Planning, as well as Financial Planning and Estate Planning.
Bernie holds the designation of CFP (Certified Financial Planner) which is the standard for Financial and Estate Planners. He is a member in good standing of The AICPA (American Institute of Certified Public Accountants and the FICPA (Florida Institute of Certified Public Accountants).
KDK Accountancy provides FREE initial consultations for business owners. Please call us at (407) 677-1040 and ask for Bernie Kiesel, CPA, Orlando Accountant to discuss your specific needs.
Top Rated CPA Maitland FL
Award-Winning CPA Offering Tax Preparation, Accounting, Financial and Estate Planning Services for, Orlando, Maitland, Winter Park and all of Central Florida
Earning money is hard enough. Why should making it grow and managing it be even harder?
That's often the first question individuals and businesses in Orlando, Maitland, Winter Park or anywhere in Central Florida often ask. And that's the first question we answer at KDK Accountancy Corporation in Central Florida. With our tax preparation, accounting, estate planning, and other financial services we assure our clients that their hard-earned money won't go to waste, regardless of their industry.
Roots established in Orlando in 1960, the corporation has since expanded its operations to cover major parts of Central Florida, such as Maitland and Winter Park. It is headed by Bernard Kiesel CPA, CFP, the firm's managing partner. Bernard has served clients as a Certified Public Accountant (CPA) for more than 25 years.
Kiesel has also earned the designation of Certified Financial Planner (CFP). Importantly, he is also a member in good standing of two top professional organizations: the American Institute of Certified Public Accountants (AICPA) and the Florida Institute of Certified Public Accountants (FICPA).
With many years of experience and financial knowledge backed up by sound credentials, clients are assured that KDK Corporation is able to meet their needs regarding tax preparation, accounting and estate planning. KDK knows each client has unique needs and works with each to attain their goals.
Whether  seeking tax preparation, accounting or estate planning services, all clients are entitled to a free consultation with our CPA to address the entire scope of their needs. This guarantees that whether they're in construction, real estate, retail, broadcasting, or even the medical field, we are able to provide the right industry-specific solutions.
It is this painstaking attention to detail and dedicated client service that separates us from other firms. That's why for more than 40 years, individuals and businesses based in Orlando, Maitland, and Winter Park only go to one name for their Accounting, Tax and Planning –KDK Accountancy Corporation.